We all woke up at about 3:00am on Sunday. We put on our spandex, body-marked each other, gathered the last of our belongings and were in the car at 4:30am. I was edgy. I was frustrated that I couldn't get my music to work in the car on the way there and I'd started to worry if we were going to find a parking space, if I had remembered my shades, if I should stop at special needs on the bike.
PRE-START
I love the hours before the race start. There is an electric blanket of quiet that settles over the site despite the music and announcements and buzz of conversation. We all moved through the maze of special needs bag drop-off to our bikes. Jen and I were three spaces away from each other and Tonya's bike was just across the aisle. We pumped tires and I put my nutrition on Lucinda. I was still a little edgy and couldn't quite shake it.
We listened to an interview of a woman nearby who was on her quest for the IRONMAN legacy spot. A few years ago she had a strange pain on a training ride, went to the ER and learned she had ovarian cancer. With treatment and surgery behind her, she was back on her quest to finish 12 MDOT races to get to Hawaii. I may have cried hearing it. The edges softened.
The space between my bike prep and the swim start is sort of a blur. We made base camp at a picnic table in the playground but may have walked over a mile as we dropped off gear bags, made last minute port-a-potty visits and made our way to the beach.
After I put on my brand-new-never-been-swum-in wetsuit, Honey and I walked a few feet away from everyone and I said a quiet good-bye to him. He hugged me and lifted me off the ground and off I went to join the crowd.
The best thing I did on that walk to the beach was splash my face with cold water from a bottle and stand under the showers for a 20 seconds and let the water creep into my wetsuit. Jen, Maria and I went to the 1:10 corral and chatted nervously while we waited. Suddenly, the first few notes of U2's BEAUTIFUL DAY echoed across the beach and Jen and I started dancing. Even Mike Reilly joined us. It was our only warm-up.
THE SWIM
The swim was in Lake Eva; yes, a Lake in Florida. This is how my friend Angela Leonard described it:
This particular lake was full of grass and lily pads (and probably gators, too, but this is not a story about gators!). The swim was shaped like a giant pair of pants. We started at the waist, swam down the leg, turned to swim across the foot opening, turned to swim up the inner leg, through the crotch, down the inside of the other pant leg, across the foot opening, up the outside of the pants leg back to the waistband where we had to get out, run onto the beach and over a timing mat and then run back into the lake to do it again!
The "crotch" was a timing chute - two barrel shaped floats about 40 feet apart - that all the athletes had to swim through to capture proof that they were staying on course. It was a crazy whirl of arms and legs and bodies! The best thing about it was that all these swimmers created a current and I was SWOOSHED through in about three strokes.
Many people have commented on the fact that it was a crowded swim, but it didn't feel that crazy to me. It did feel that everyone was practicing the CLOSED FIST DRILL, but I didn't lose my goggles or get scratched and kicked. There were just so….many…..turns. I felt a little off-course in the first 200 yards - mainly because I think I was aiming toward a volunteer in a yellow shirt instead of the yellow buoy, but I found my way back on track and had a great swim. I finished in 1:13:ish. I was eighth in my age-group!
My favorite part was seeing Jen on the second loop. All of a sudden I hear, HI! I answered back: what are you doing? Which is our normal call-and-response-greeting. She responded: swimming! I said: ME, TOO! Wanna be friends? And were off again.
THE TRANSITION
Right out of the water I plopped my butt down on the ground for the wetsuit strippers. We had a hard time getting my left arm loose because of my watch, but otherwise it came right off and for the first time EVER, I did not have a wetsuit hickey on my neck!
I showered and jogged through transition to the tennis courts to grab my bike bag up the path and into the rec center building to the changing room. I ditched the swim gear and donned my helmet, shades and grabbed my shoes. I ran barefoot out of the building down the sidewalk, through a parking lot, between building and to the multi-level bike park. I grabbed Lucinda, ran another 100 yards, out of T1 up a hill and finally onto the bike. All-in-all a half mile transition!
BIKE
This one was a challenge and I'd love to do it again. But, as Angela said:
For those of you who are under the delusion that Florida is flat, Haines City is here to laugh in your face, smack you around, and steal your lunch money.
As strong as I felt at my White Lake bike and in Chatty on the hills, I wasn't feeling great on this ride. My legs were tired from the start. [Maybe a second-floor suite was not the right choice. Maybe all the walking in transition the past few days didn't help.] In the first 10 miles, before we even reached the loop, a woman passed me, cut in front of me, ran off the road, recovered back onto the road, but launched a bottle which I hit. Somehow I saw it coming and was able to sit up out of aero, yell, BOTTLE DOWN and hold my line. Way to go! I yelled as she sped on. #redneckrevealed
Somewhere near Lake Marian I had another near miss when a guy passed me and then STOPPED! C'mon, Man! I looked down for a split second and then almost cyclo-crossed over him. I was able to manuever around him for a pass.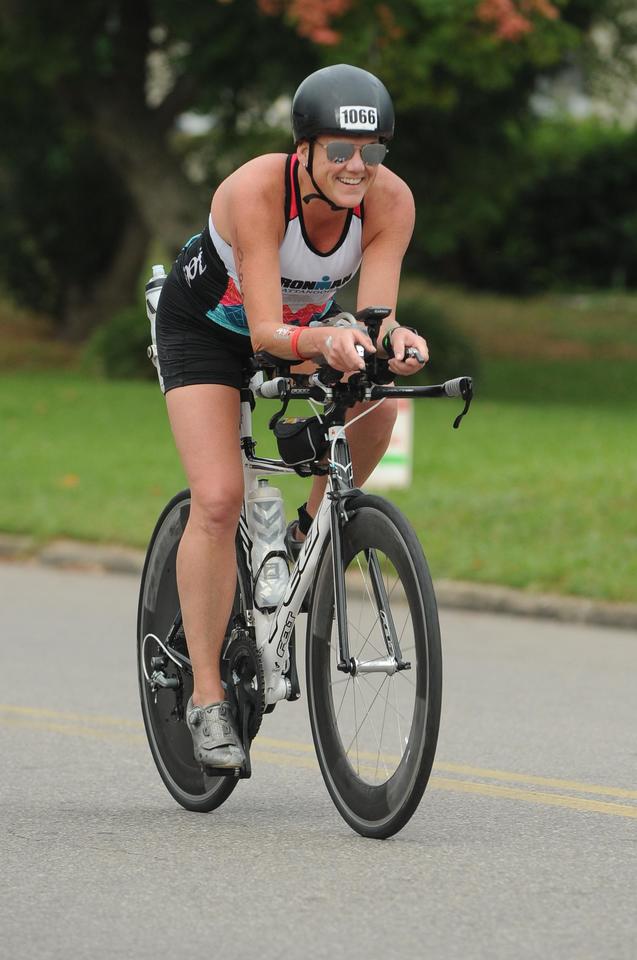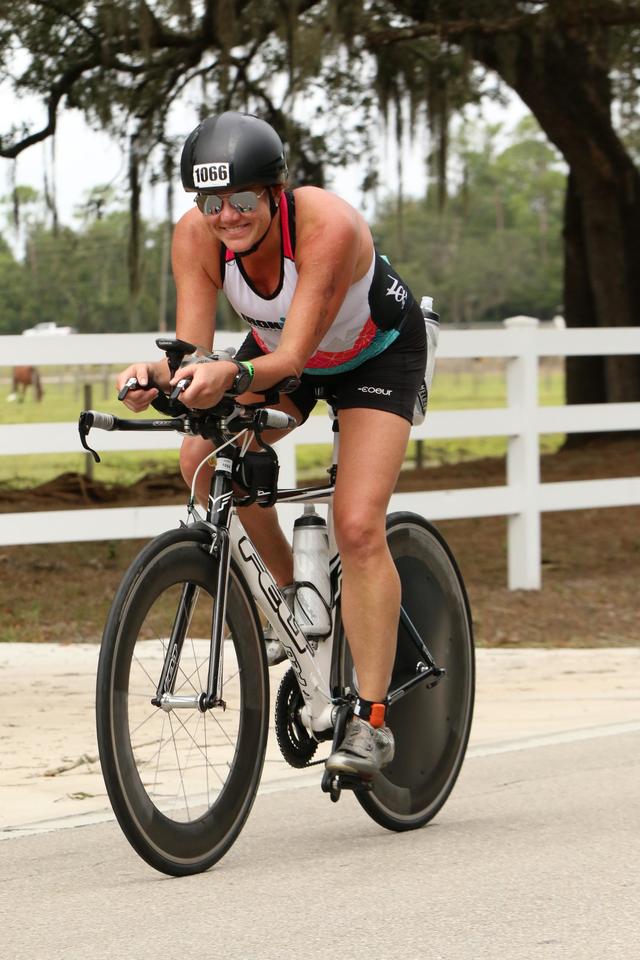 The road conditions were pretty good (better than Santa Rosa, but not as good as Chatty) and the scenery was nice - a few lakes, a quarry, ferny swamplands with wax myrtles, orange groves and lemon groves, llamas, emus and a mile of spectators to start the second loop. I liked that the hills in and around Haines City gave me something to think about. Shifting gears, determining how to safely take turns at the bottom of a downhill and how to smoothly pass on an uphill engaged my brain.
Otherwise, I obsessed about the grains of sand that were left on my tri kit and the ONE grain of sand that was lodged in my watch band and ate a hole in my wrist. I sang the Florida Orange Blossom song and a few hymns based on the church signs I passed. [And if you've never heard Jen Young sing the Orange Blossom song, please check out THIS cheesy version. It is a close rendition.]
My favorite parts of the ride:
Seeing Maria's dad all over the bike course. He used the pool skimmer as a giant sign. It was draped with a tee shirt with Maria's head blown up and text that said: Go, Maria, Go! in Michigan colors

Seeing Maria within the first 15 miles. She passed me and we greeted each other with HI!WHATAREYOUDOING?RIDINGBIKES.ILIKEBIKES.WANNABEFRIENDS? Another woman near said: I like bikes, Yes! We met again later at an aid station where we both took a break.

The fan zone at the start of the second loop. Ace and the rest of the gang were cheering and screaming as I rode by to start the loop again. The energy was high and I was so thankful for our tribe of fans who were there for us all.

SIGNS. I know that sounds weird, but I liked looking at all the signs for the 55+ neighborhoods, the church marquees [Rejoice in the Lord. Always], Jenni St., Hartmann St., Miss Mary Anne (I sure do) Drive and the G-Spot biker bar (#4Gracing).

VOLUNTEERS The fact that Haines City pulled together for such an amazing race was a testament to the Ironman motto that ANYTHING IS POSSIBLE. All the aid stations were packed with people passing out food and water, cleaning up after all the athlete trash and directing tired bikers through feeding zones. There was a crazy out-and-back section near the quarry and on the first pass, one woman had made up a song and dance to help us slow down on the downhill, round a cone in the middle of the street and get back to speed on an uphill. At that nearby aid station I noticed a guy raking all the empty bottles and cups and singing a song on both time I passed through and I handed one of my red volunteer bracelets to him.
Tactically, I had a good ride. My nutrition was even better than it was in Chatty. I had only one gel all day. A root beer GU at mile 90. The rest of the day I drank NBS Pineapple Hydration, ate PEZ candy and glucose tabs, bananas and one NUUN tablet at mile 105. I felt great on the bike and felt great coming off the bike despite 85+ degree temps and high humidity.
I paced myself well. I knew right off that I wasn't feeling it and worked with the wind to set myself up for a strong run. I started easier than I usually do on a training ride and built into power zone 2 and 3 in the second loop. I finished the bike in 6:39:ish.
TRANSITION TWO
Again, the volunteers were great. We even had bike catchers to grab our bikes as we dismounted. It was another half-mile run to the tennis courts, into the building, out of the building and onto the run course, but it was a half-mile lined with spectators, volunteers and tri club tents. The women in the changing room were miracles. One emptied my run gear bag and the other helped me undress. I warned them to ignore my nakedness and they laughed and said they'd seen it all already. I had one of the gals read a few lines from my bag as the second one sprayed me down with sunscreen. Done in less than 10 minutes. I bet Ace wishes I got ready that fast when we're going out to dinner.


THE RUN
My goal was to finish the run faster than my IM Chattanooga run. I wanted to catch Maria and Jen. It didn't happen. But, I had a great run. I had decided on the Sunday before that I was going to turn off my metronome and turn off my run/walk alerts. I had been doing 6-and-1s in training most of the season, but I decided my objective was going to be run as fast as you can, as often as you can for as long as you can. It was FREEING! I can't wait to do it again. I didn't have walker's guilt and every time I did run, I think I ran for longer than six minutes.
Have you ever been to Disney and snaked through the lines at every ride? That is the feeling I got on this run. The first section was an out-and-back. We ran to a nearby high school and back to the transition area. I liked it because it was along the last mile of the bike and I got to see a bunch of riders come into Lake Eva. It also engaged my brain. There was a decent steep hill and a indescribable Disney-like maze that involved two inner lanes on the first pass, two outer lanes on the second pass, an aid station and two cul de sac out and backs. It was crazy, but I like it. I didn't love that the sun was out and that the humidity threatened rain that didn't materialize until later.
The main part of the run course was a three loop maze around Lake Eva that snaked in and out of nearby neighborhoods and through IRONMAN Village. It was fantastic for spectators. Our gang posted up in a spot where they could cheer each of us on three times per loop. I spotted Maria on the first loop and Tonya and Maria on the second loop. Other highlights:
A RAINBOW on the second loop. There was an aid station decked out as a beach party. The music was pumping and the volunteers were super energetic. I looked forward to this aid station each time and on the second loop they arranged a bright rainbow to appear. It was visible over Lake Eva for nearly 30 minutes. Perhaps a promise of a finish because on the other side of us there was…….
A LIGHTNING STORM Before the race, our team had talked about the possibility of a pause in race action due to a thunderstorm. We all agreed that we would swimbikerun until we saw an actual lightning bolt or got pulled from the course. I think we were all counting the seconds between the lightning and thunder as the storm got closer. Seven miles. Five miles. Three miles. And then miraculously electricity moved on. But then……
THE RAIN As Angela described:
The real excitement of the run started after dark. Florida storms are spectacular, and the one that started during the run did not disappoint. We had every type of rain—mist, drizzle, soft rain, downpour, and deluge. We had lightning and thunder. We had wind. And once all the rain stopped, we had puddles, and what one volunteer warned me was "fast moving water" to wade through.
I said aloud to another runner, Is it TURN AROUND DON'T DROWN? Or do we finish? We finish! she exclaimed. We held hands and jumped over the river of water. It was an amazing closing theme for our last few months of training. We had weathered Hurricane Florence and done several brick runs in rain exactly like this.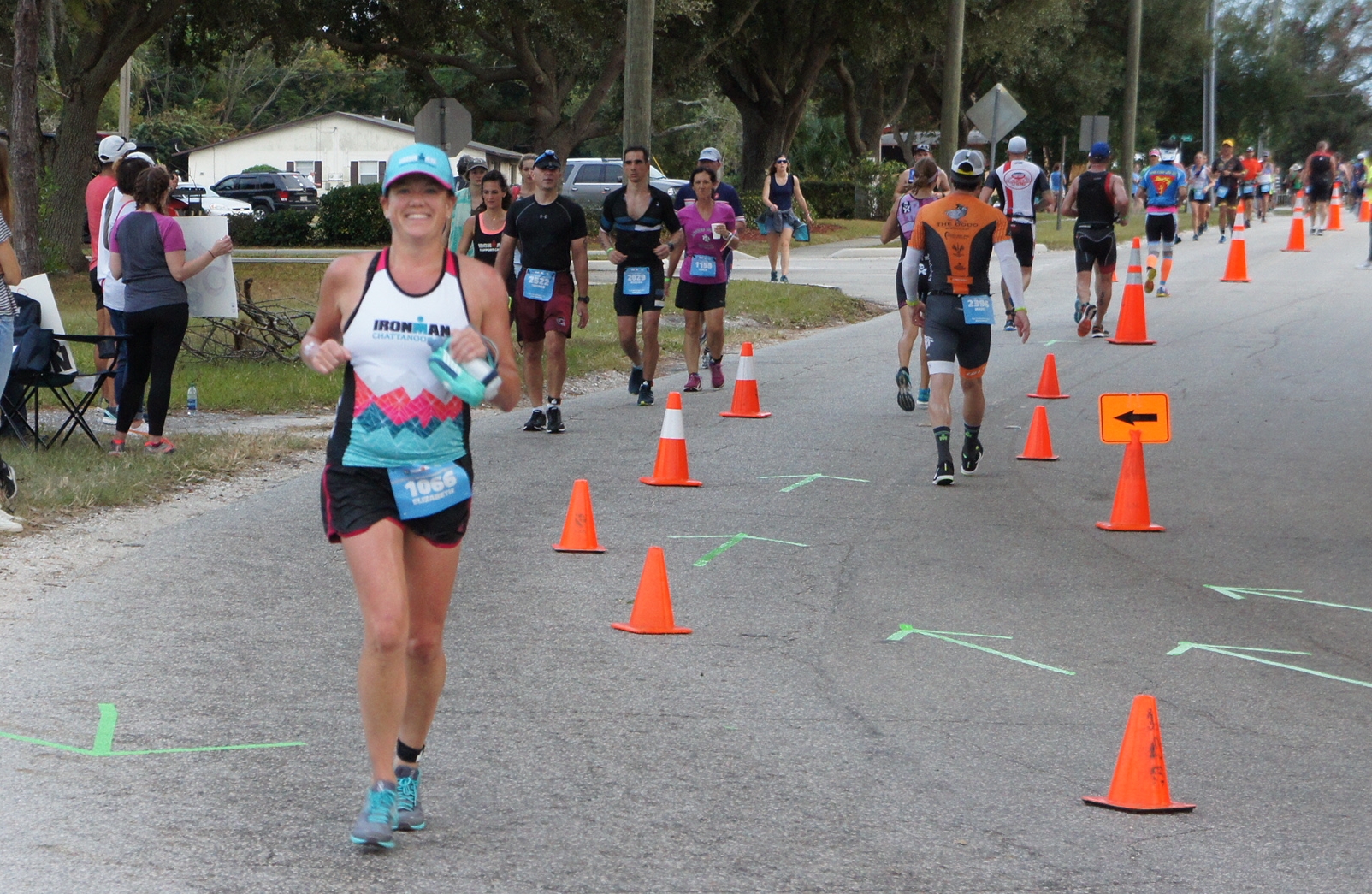 A FIRE ALARM at the elementary school. On the last loop, in the pouring rain, the alarm sounded inside, the strobe lights flashed inside and multiple emergency vehicles surrounded the school. For some reason this cracked me up. It was loud and lasted forever. You could hear it throughout the next few miles as we ran in and around the streets of the surrounding neighborhoods.
THE FINISH
It was still pouring rain when I finished. I rounded the corner to the finish chute. I heard the roar of our crowd near the palm tree and in the blinding lights of the finish arch, I watched as volunteers tried to either keep the red carpet from floating away or were searching for a drain. Regardless, the water in the finish lane was shin deep. I pretended I was swimming it in. I high stepped and added a little breast stroke and then a little freestyle as Mike Reilly proclaimed: ELIZABETH ANDREW. YOU ARE AN IRONMAN!



IF You have Facebook, you may want to watch THIS VIDEO. The interview with the cancer survivor is at the 0:20 point, I am dancing with Mike Reilly at 3:26 and I swim across the finish at the 11:46 mark.