RACE RECAP & THREE THINGS I LEARNED AT IMBOULDER
It's been two months since #IMBOULDER and this is how I still feel. It was a #unicorn race. I don't mean I won it or that I even PR'd it. It was not even perfect. But, it was an unbelievable day. One that you love from start to finish. Where you smile in every picture and you dance at the finish. Here are few highlights, photos and flashbacks. And, a few lessons learned along the way.
The day of IMBOULDER did not start as planned. I woke up 30 minutes late. I don't do late. I was proud that I didn't freak out. Maybe sleepy = calm. Our plan was to leave the hotel at 4:00am, drop off my special needs bags and head out to the Boulder Resevoir.

I had 30 minutes to put on spandex, take my meds, fill my bottles for the bike, do other normal morning things, throw wetsuit, nutrition and gear into bags and get out the door. I had planned for it to take an hour.

In that condensed time and space, I made mistakes. I mixed my bike nutrition wrong, I forgot my heart rate monitor and I left my Dorothy pez behind.

We still made it to the car by 4:10am, had dropped my bags at the high school and were headed to the Reservoir by 4:30.

In the weeks leading up to Boulder, the fear was the water in the Boulder Reservoir. Snow melt threatened to make the water around 55 degrees. #icecreamheadache I had borrowed booties, gloves and thermal vest to wear with my wetsuit. Who knew that the air temp would be the challenge! Temps started in the mid 40s and it was colder on land than in the water which was about 67. I was happy to don the wetsuit and get in the water to warm up. The worst part of the entire day was waiting for the swim start. We lined up in the chute according to our swim time and waited. And waited. My feet were freezing and it hurt to stand on the asphalt. They only released one or two athletes down the boat ramp and into the water at a time. So it was a time trial start for 1300 swimmers. The official start was 6:20am, but my toes didn't touch the water until 6:50am. So I danced my way down, one step at a time. Cheered when they played U2 and gave Neal a kiss before I walked beneath the arches and down the red carpet to the water's edge.
The swim was amazing. Every swim stroke on the far side of the reservoir and on the way back in was like looking at a post card. Snow-capped mountains on one side and a rising sun on the other was something I'll never forget.
Halfway through, I thought: it's warmed up nicely, I probably don't even need my long sleeve shirt on the bike. As soon as I got out of the water, I changed my mind. As I peeled my wetsuit off (which got stuck on my watch) I couldn't wait to put on my long sleeve shirt. Plus, I remembered that I had stuffed hand warmers inside my gloves. They proved to be super cozy in those first miles on the bike.
One of the most fun things about MDOT races is that for many of them, you are competing with the pros in triathlon. [Notice I didn't say against. They are still in a class of their own.] One of the highlights at IMBOULDER was being passed by pros! The first to pass me was Timothy O'Donnell. I was at mile 30ish and he was at mile 85 on the loop. I looked back at the footage from the race and found the spot where he passed me. I hammed it up for the Fbook coverage cam, but they actually blurred out my waving and smiling and saying: go T.O.!
Right before that, I had come off an amazing downhill and turned left at a major intersection. On the other side of the road, I saw a woman running towards the intersection. She had on a hat and earpods and an Ironman pullover. I thought: hey girl! you're headed the wrong way. And then out loud I said: you're not a girl, you're RINNY!! Rinny is Mirinda "Rinny" Carfrae another pro athete who also happens to be married to T.O. She never heard or even saw me when I yelled: Go Rinny!
[On a side note: Mr. O'Donnell finished his whole race (that includes the #marathon after his 2.4 mile swim and 112 mile bike) before I even finished my bike! (He did get a 50 minute head start though).]
The second loop of my IMBOULDER bike was a little daunting. There's some comfort and some trepidation that comes with knowing what's ahead. But, as I sometimes tell my athletes: the bad news is we do it again; the good news we know that if we did it the first time we can do it again. And maybe even better.
What was coming was another round of false flats. I live on the coast of North Carolina, so false flats around here are about 1-3% grade of incline. Up there, it's more like 3-5%. And, at the end of each long stretch of false flat, there's a kick-up in grade. I wondered for a minute as I started that next loop if I could. And then I did. What I didn't know was coming was a visit from Ace! At mile 75 - at the top of the biggest climb (at 5100 feet), I noticed someone that looked like hubby! And then it WAS hubby! He cheered and said: you look great, Babe! That gave me just the boost I needed to finish up the course. I remembered how he's been such an amazing support. Not just for that day, but for my entire triathlon adventure.
I didn't really want to get off the bike, but I also was looking forward to the run. It was on greenways and paved paths that took us from the resevoir into downtown Boulder with a loop past the finish and back out to a turnaround (in an amazing bar parking lot) and back to downtown Boulder. There always seemed to be running water within earshot and the temps were perfect.
I finished my ride (6:50ish) - about 10 minutes under my goal. And I felt great. I nailed my nutrition thanks to Cristina Caldwell Fueled Coaching I didn't get my normal 80 mile headache and my stomach never growled (which is what normally happens). But, less than a mile into the run, I felt woozy. I wanted to take a nap. I closed one eye and tried it. I ran off the road. I tried the other eye and staggered the other way. Um. What is wrong? I tried salt and then calories. Oh, and at mile 4 or 7 (who knows?!) I remembered I was at altitude. Duh. I figured out if I kept my heart rate in a certain range I wouldn't feel wonky on the low end or out of breath on the high end. It was slow going, but I had an amazing time.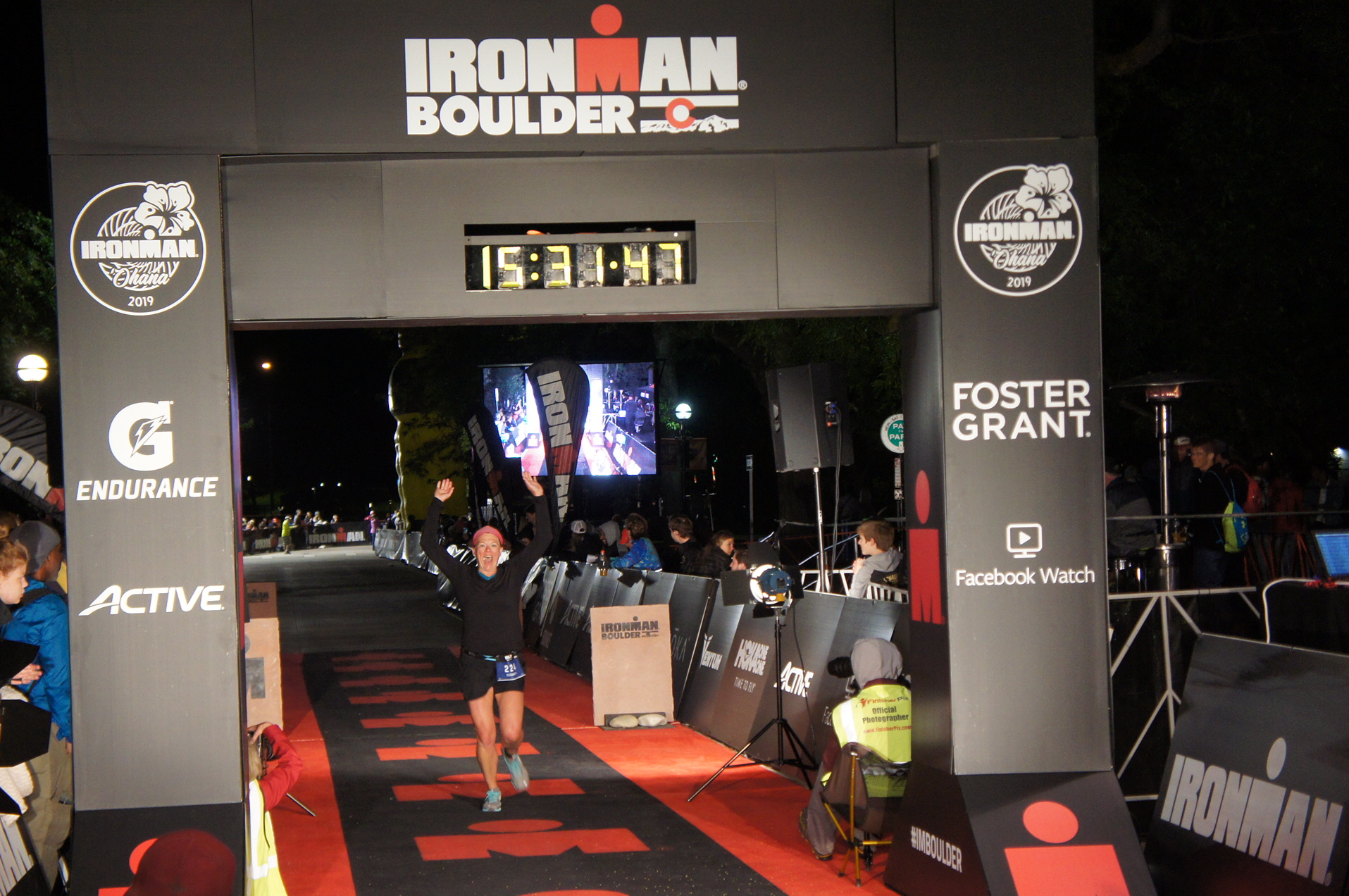 THREE THINGS I LEARNED AT IRONMAN BOULDER
I loved Ironman Boulder. It was a unicorn of a race. It was like racing in a postcard. There were snow-capped mountains that I could see in the swim. There were prairie dogs, a rattlesnake, a few pro triathletes and a moose sighting on the bike. There was altitude wooziness on the run and a surprise at the finish line. As usual, I learned a lot. Here are my top three take-aways:

ANYTHING IS POSSIBLE/ANYTHING CAN HAPPEN
I overslept. By 30 minutes! I set my alarm for 3:00am for Mon/Tue/Wed/Thu/Fri/Sat but the race was on Sunday. In the scramble to get out the door as planned, I:
Mixed up my nutrition bottles. I mixed bottle one and bottle three together. Different brands. Different flavors.

I didn't have time to eat breakfast in the comfort of my hotel room.

I forgot my heartrate monitor and my Dorothy Pez!

I ended up with weird things in my special needs bag (all of my QTips ended up in my run special needs!).
Practice not only a perfect day, but practice an imperfect day. That way, when it happens to you, you'll be prepared to KEEP CALM & CARRY ON. Practice a messy transition, practice waking up late, practice the pressure and on race day when - not if- something comes up....you can handle it.

HAVE A PLAN A-B-C-D

My bottles weren't the only thing that went awry with my nutrition. My favorite breakfast bagels couldn't be found, we didn't have a very big fridge in the room and we had no access to a microwave. That meant that I had to "make-do" with alternate ways of prepping my nutrition. I had to choose a different breakfast combo (cold waffles, Infinit MUD nutrition, Van's breakfast bars and some almond butter). I had to make all my bottles the morning of the race. And, when I mixed them incorrectly, I had to have an alternate choice.

Always be thinking of another way. Don't think that one way is always the right way. Routines and habits are beneficial - until they break your confidence or create anxiety. For example: You don't HAVE to carry a Pez dispenser on the bike. Especially when you find the token unicorn that a friend gives you before the race.

ONCE AGAIN, WITHOUT FEELING

How you feel coming off the bike is not an indicator of your race. It's not an indication of how you swam or how hard you rode. It may not even be an indicator of your nutrition. You are likely going to feel like sh!t. But that doesn't mean that your nutrition is off, you rode too hard or you're under- or over-trained.

You can use all of those things to overcome how you FEEL when you come off the bike and face the last leg of your race. You can overcome nutrition issues by eating a few more calories, taking in a little more salt or drinking plain water. You can remember the positives of your training - the little victories along the way that consistently led you to the start line of your race. And, although counter-intuitive, you can do the opposite of how you think you've raced up to this point. If you feel you over-cooked the bike, don't go easy. Give yourself a little push in pace. If you feel you didn't push yourself enough, then back off into cruise mode and see if that doesn't flip a switch.

And if none of that works.....keep moving forward. How you feel at the start of the swim or bike or run will be forgotten as soon as you cross that finish line and they hang that medal around your neck.